Wellbeing Nutrition
Regular price
Rs. 2,475.00
Regular price
Rs. 2,750.00
Sale price
Rs. 2,475.00
Unit price
per
-10% OFF
Sold out
Wellbeing Nutrition's Pure Marine Collagen is made of 100% pure korean marine collagen peptides which supports your health in numerous ways. The pure collagen peptides improves collagen production to strengthen and repair your skin and visibly reduces the appearance of ageing signs.
Collagen makes up a significant portion of the skin, tendons, ligaments, and other connective tissues in the body and is responsible for giving these tissues their strength and elasticity.
Marine collagen is derived from fish and is considered to be a more pure form of collagen because it is typically less processed and contains a higher concentration of certain types of collagen. Another potential benefit of marine peptides is on sports performance and recovery. Collagen is an important component of connective tissue, thus it can help with injury prevention, recovery and reduce muscle soreness.
While supplementing with collagen may provide certain benefits, it should be combined with a healthy diet and lifestyle habits to achieve optimal results.
Good To Know
KEY BENEFITS

• Reduces fine lines, wrinkles and pigmentation
• Strengthens hair and nail health
• Boosts skin hydration and elasticity
• Enhances bone health and joint health
• Imparts luminous glow
• Improves gut health
HOW TO USE IT?

• Mix one scoop of the Wellbeing Nutrition Glow Marine Collagen powder in a 250ml glass of water
• You can also mix this in your daily smoothie, juice or breakfast bowl
KEY INGREDIENTS

100% pure korean marine collagen peptides
About The Brand

Wellbeing Nutrition Hair, skin and nails is effective for thinning hair, brittle nails and dull skin using highly potent, bioavailable and effective ingredients. Wellbeing Nutrition nourishes hair, skin and nails, resolving common issues such as pigmentation, fine lines, oxidative stress, breakouts, dry texture, hair loss and provides UV protection.

Our nourishing complex is convenient to take on-the-go and made from superior sources, ensuring your beauty radiates from within.

Our unique nano encapsulated formula is enhanced with Mint for a more calmer and pleasant dose to avoid any bad burps or aftertaste while taking these capsules.

And, our wholesome multivitamin vegan blend is easily traceable, and is free from unnecessary fillers, artificial colourants or synthetic fillers, preservatives, soy, gluten and major allergy free.


Share
View full details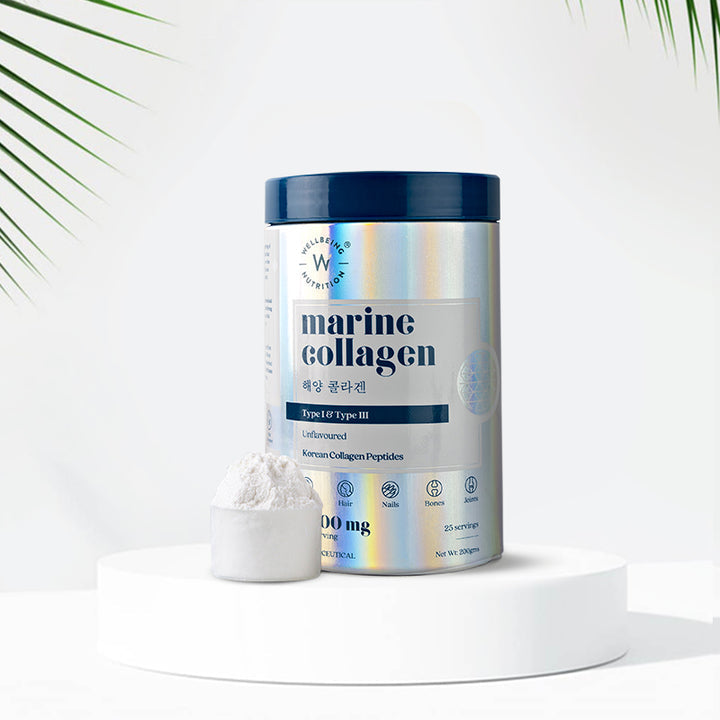 Easy returns

Hassle-free return & refund